News
2019 News
3/28/19
Dan Nickrent, one of our Emeritus Plant Biologist who specializes in Plant Molecular Systematics and Evolution recently published a paper in the American Journal of Botany.
Follow the link for more information: https://science.siu.edu/news/2019/AJB.html
---
2016 News
4/12/16
Thompson Woods survey stirs further debate among campus community
Interview with PLB's Dr. Sedonia Sipes, published in the Daily Egyptian, on concerns about the ongoing Thompson Woods/Campus Lake survey in which understory and vegetation were defined explicitly as "annual and perennial weeds and grasses".
---
3/31/16
Plant Biology student earns national recognition
Congratulations PLB major and SIUC track/field athlete (high jump), Austin Weigle from Kennebunk, Maine, who recently received Honorable Mention for the prestigious 2016 Barry Goldwater Scholarship.
The Goldwater scholarship is considered the premier nationally competitive undergraduate scholarship award for Mathematics, Natural Science, and Engineering majors. Out of the 1150 nominations received for the 2016 competition, 252 Scholars were named and 256 Honorable Mentions were awarded. 
Special congratulations to Dr. Aldwin Anterola, Austin's research mentor and nominator.
---
3/17/16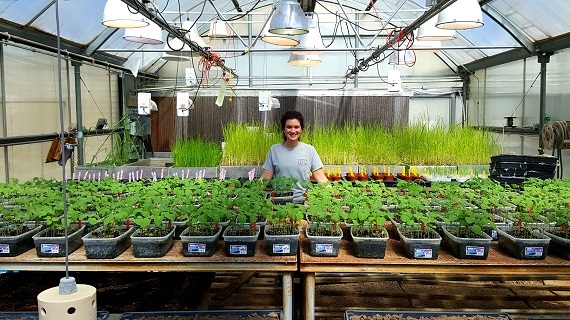 Lauren Schwartz, Ph.D., Helping Farmers Increase Crop Production. Recent Plant Biology Ph.D. Alumna, Lauren Schwartz, was recently featured in the Huffington Post College edition for her work.
---
3/8/16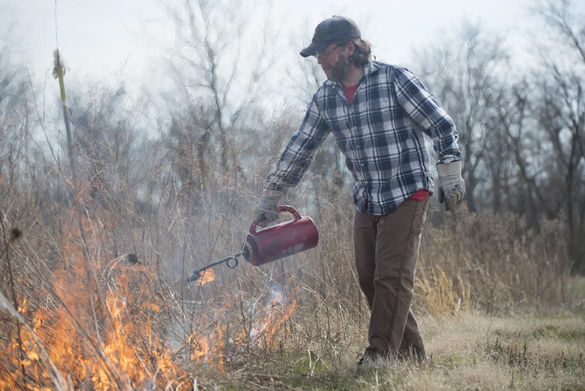 Ph.D. Candidate George Manning was featured on the front page of the Daily Egyptian performing a controlled burn at a school-owned prairie plot on campus.
---
2/26/16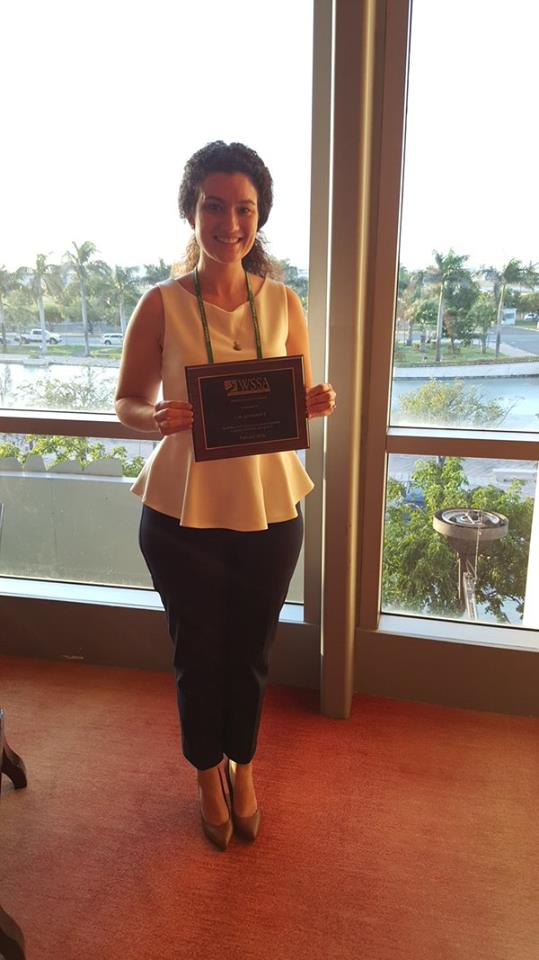 Researchers' paper earns national recognition.
This article was featured in the SIU News, and includes recognition of our very own: recent doctoral alumna Dr. Lauren Schwartz, Professor Dr. David Gibson, and Assistant Professor Dr. Karla Gage.
---
2/18/16
Did you know...the Plant Biology program recently launched an undergraduate specialization in conservation and protection of biodiversity.  The specialization will focus on major challenges facing humanity and help fill a predicted shortage of trained botanists and other biologists with botanical experience.
This information was featured in the Points of Pride in the SIU News
---
2015 News
12/19/15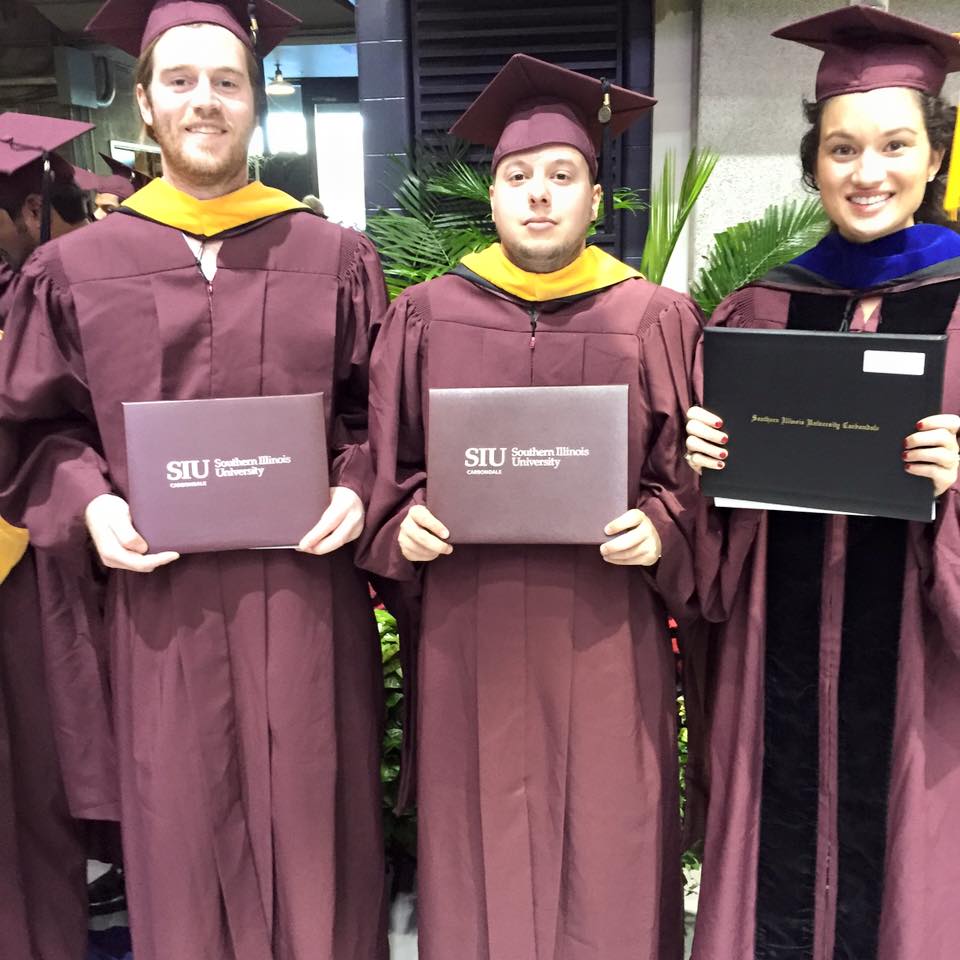 Congratulations to our most recent Plant Biology Graduates: (L-R): Bryan Piatkowski & Drew Scott, who graduated with their M.S. degrees, and Dr. Lauren Schwartz who graduated with her Ph.D.  These students participated in the Fall 2015 Commencement Exercises held on Saturday, December 19th, 2015.
Also, congratulations to Plant Biology Undergraduate, Taylor Hand, (not pictured) who graduated the same day.
---
11/19/15
The EPA fire project being conducted by the Battaglia lab and collaborators at University of Alabama and Grand Bay National Estuarine Research Reserve made the Corpus Christi, Texas news. 
---
11/10/15
The Robert Noyce Master Teaching Fellowship, started by one of our own, Dr. Karen Renzaglia, was featured in the November/December edition of the Friends of the Cache River Watershed newsletter.  Read more about this program that is designed to transform the way teachers engage elementary and middle school students in science and math, as told by Noyce Project Manager, and PLB Graduate Student, Travis Neal.
Friends of the Cache River Watershed November/December edition.
---
10/26/15
Study's findings important for planet's biodiversity.
This article features Plant Biology Emeritus Professor, Daniel Nickrent, who participated in a study that was recently published.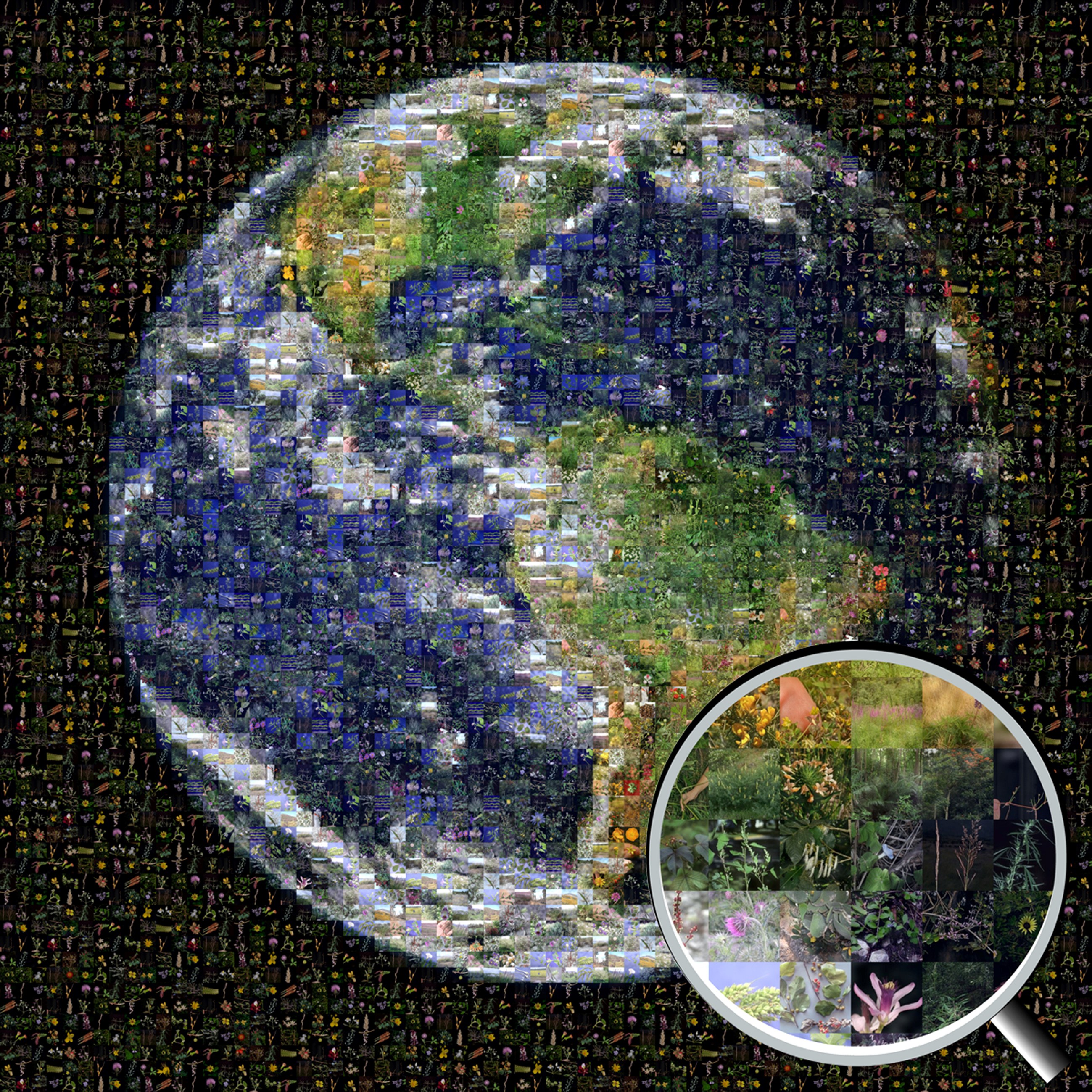 The mosaic above was constructed by Daniel Nickrent using EasyMoza software based on a public domain photo of plant earth. 367 images representing 360 introduced, naturalized, or invasive plant species worldwide were used as tiles to construct the mosaic.
---
Congratulations to 2015 REACH Recipient and Plant Biology Undergraduate, Austin Weigle. REACH, or Research Enriched Academic Challenge, is a highly competitive program, open to all disciplines, which offers up to 20 grant awards each year to full-time SIU undergraduate students to work on an independent research project with a faculty member. For more information, visit REACH's website.
Austin will be looking into gene expression in order to determine where certain isomers of tryptophan synthase occur in the indigo‐producing plant Isatis tinctoria, commonly known as dyer's woad. Indigo producing plants manufacture indigo dye as well as pink dye, known as indirubin, along the metabolic pathway for tryptophan synthesis. While indigo has exhibited carcinogenic character, indirubin has been shown to prevent the growth of and development of cancerous cells, as discussed in Traditional Chinese Medicine. This project aims to provide clarity to the tryptophan pathway in relation to where synthesis of indigo and indirubin are located within Isatis tinctoria to serve medicinal and commercial purposes, as well as to support future studies on the tryptophan synthase enzyme at a molecular level.
Faculty Mentor: Aldwin Anterola, Ph.D., Plant Biology
---
9/15/15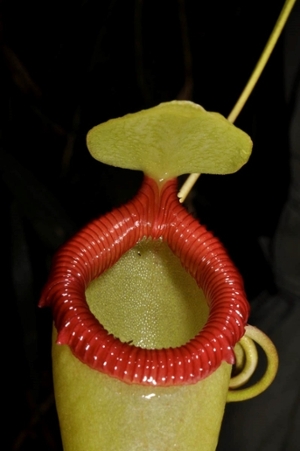 Another milestone has been reached regarding PhytoImages, the photographic database maintained by Dan Nickrent in the Plant Biology program.  Image number 100,000 was uploaded to the server which was a photo of Nepenthes barcelonae (see above), an insectivorous pitcher plant from the Philippines.  This plant is named for Dr. Julie Barcelona, a scientist in New Zealand who has studied the Philippine flora her entire career. PhytoImages is the repository for 45,000 photos from the Philippines, all of which are linked to Co's Digital Flora of the Philippines, a continuously updated digital checklist of Philippine vascular plants. The rate of increase in photos uploaded to PhytoImages can be appreciated by noting that image number 20,000 was uploaded October 2010. PhytoImages will also be the repository of all the photos for the soon to be released Illinois Plants website.
---
5/16/15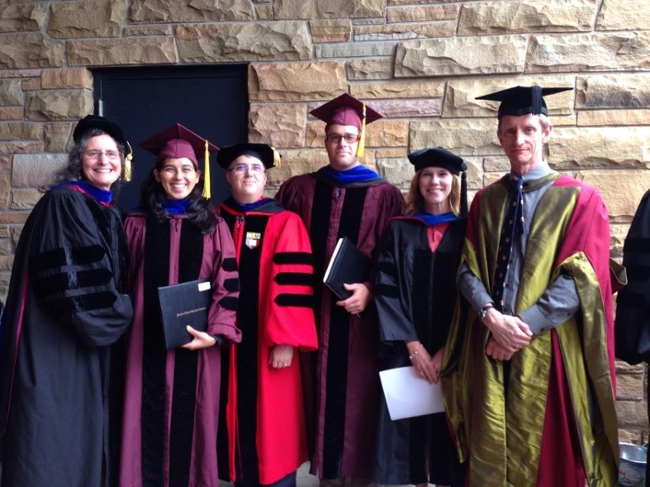 Congratulations to our recent Plant Biology Graduates: Dr. Amelia Merced and Dr. Adam Chupp who graduated with their Ph.D.s on Saturday, May 16, 2015.  Pictured with the graduates are: Scholar Excellence Award Recipient, Distinguished Scholar, Grand Marshall of the 2015 Commencement Exercises and Major Advisor for Dr. Merced, Dr. Karen Renzaglia; Plant Biology Department Chair, Dr. Stephen Ebbs; Major Advisor for Dr. Chupp, Dr. Loretta Battaglia; and Plant Biology Director of Graduate Studies, Dr. David Gibson.
Also, congratulations to our Plant Biology Undergraduates who aren't pictured, but graduated the same day: Vincent Colantonio, Caleb Coots cum laude, Nicholas Flowers cum laude, Shayla Gunn cum laude, Anthony Sabella, and Toby Warren magna cum laude.
---
4/28/15
SIU recognizes faculty and staff for exemplary work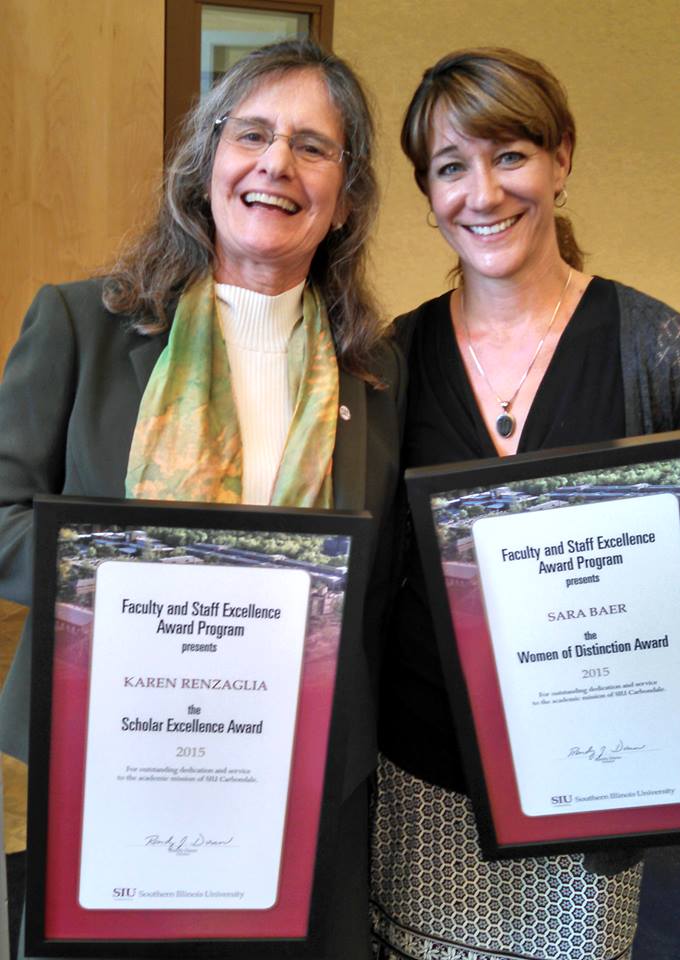 Left: Dr. Karen Renzaglia was awarded the 2015 Scholar Excellence Award, earning herself the permanent title of Distinguished Scholar.  Right: Dr. Sara Baer was awarded the 2015 Women of Distinction Award.
---
4/23/15
Seven earn Faculty and Staff Excellence Awards
This elite group of seven includes two Plant Biology faculty members: Dr. Karen Renzaglia, who is being recognized for the Scholar Excellence Award, which earns her the permanent title of Distinguished Scholar. Also, Dr. Sara Baer, who is being named for the Women of Distinction Excellence Award.  The awards will be presented on Monday, April 27th, 2015 at 3PM in Morris Library's Hall of Presidents and Chancellors.  Please join us in congratulating these hard-working women.
---
4/1/2015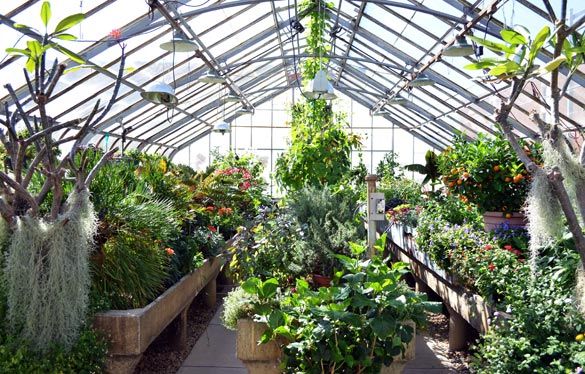 The Plant Biology greenhouse is to undergo major renovations, a process that is slated to begin in July and last approximately 6 months. Renovations include interior and exterior renovations, including automated temperature and moisture control, as well as making sure the building is compliant with the Americans with Disabilities Act. Visit the Greenhouse Renovation page for more information.
---
2/15/2015
Plant Biology Ph.D. student attends Max-Planck Institute Workshop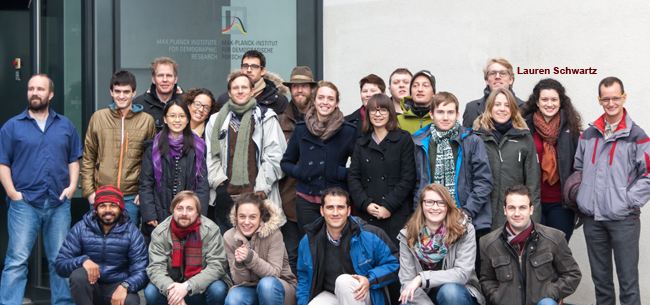 Lauren Schwartz, Ph.D. Candidate in the Plant Biology program was one of 22 students accepted to attend a specialized workshop at the Max-Planck Institute for Demographic Research in Rostock, Germany.
---