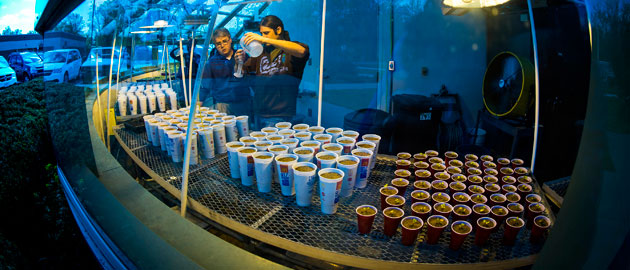 Plant Biology Facilities
Faculty in the Plant Biology Program are located in two buildings: Life Science II and Life Science III. In addition to modern laboratories maintained by individual faculty members, the Program maintains a number of facilities available to all students and faculty in Plant Biology.
The Southern Illinois University Herbarium currently houses about 250,000 specimens. As might be expected, the herbarium's holdings are especially rich for southern Illinois, which includes the southernmost 18 counties of the state. However, the collections also come from other areas of the state and country, as well as from several different parts of the world, including Australia, Hawaii, China, Israel, Mexico, Belize, Montserrat and Brazil. The plant families with the largest number of holdings in the herbarium are the grasses, sedges, legumes and composites. In addition to the mounted plant specimens, the herbarium also houses ethnobotanical collections, the Walter Welch slide collection of approximately 5500 kodachromes, and a library of books and reprints.
The Plant Biology Greenhouse is located east of the Life Science III building. This "E-shaped" complex comprise four interconnected houses, an office, and a headhouse. Most growing space in main house consists of in-ground beds whereas the three attached houses (south, middle and north houses) contain fixed elevated benches. The collection is taxonomically diverse and consists of representatives of all extant land plants (bryophytes, lycophytes, ferns, gymnosperms, and angiosperms). The collection, maintained by Richard Cole, is used for both teaching and research.
The Phytotron
Located on the east end of Life Science III, the phytotron provides climate-controlled growing space for plants ideal for conducting physiological experiments.
Computing Facilities
Room 449 in Life Science II is outfitted as a computer laboratory that contains PC computers, all of which have Ethernet connections to the internet.