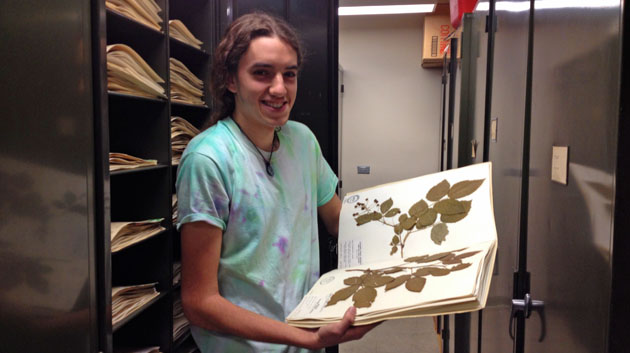 SIU Herbarium
The SIU herbarium originated in 1878 and currently contains over 250,000 specimens. It is located in room 424 in the Life Science 2 building on the Carbondale campus of Southern Illinois University. Although collections are worldwide (esp. Australia), the majority are from the United States and Illinois, western Kentucky, and southeast Missouri. Important collections are those from: R. Athey, W. M. Bailey, S. R. Bennett, A. Chase, A. H. Curtiss, O. Degener, H. K. D. Eggert, J. Fowler, G. H. French, D. C. Ingram, G. N. Jones, F. B. Lenzie, E. J. Palmer, A. E. Radford, C. M. Rector, F. G. Renner, F. H. Sargent, J. R. Swayne, R. D. Thomas, F. H. Utech, and G. R. Vassey.
Scheduled Hours
The Herbarium is open throughout the day to Plant Biology faculty and students.  If the Curator or Herbarium Assistants are not available to let you in, the Plant Biology Office staff can unlock the Herbarium door.  However, if you have not used the Herbarium previously, please contact us first to receive appropriate orientation and training.
The Herbarium also welcomes individuals from other institutions and SIU departments.  Please contact the Curator in advance so that we can ensure that someone will be ready to assist you upon your arrival.  This is especially important for individuals visiting from outside the local area, as we want your visit to be as productive as possible. Our current staff (Curator, graduate student assistant and undergraduate student assistant) work only part-time in the Herbarium, but we can usually arrange schedules to accommodate most visitors.
We look forward to assisting everyone in the safe and productive use of the SIU Herbarium. 
Loan Policies and Procedures 
All requests for loans should be made to the Curator: Dr. Nancy Garwood