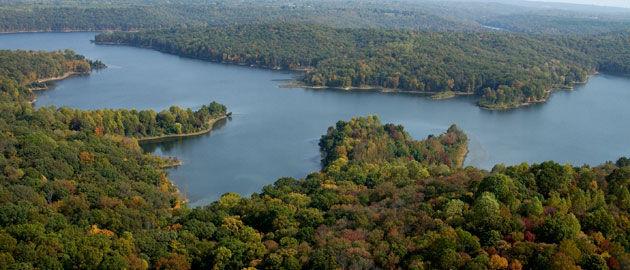 Botany in Southern Illinois
What's it like to live in Carbondale, attend Southern Illinois University, and be a student in the Plant Biology program? The purpose of this web page is to showcase some of the unique Natural Areas found in the Southern Illinois region. From this, it is hoped that you will see how our department is an ideal place to pursue botanical study.
Where are We Located?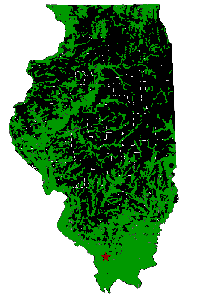 Southern Illinois is sometimes called "the land between the rivers" because it is bordered by the Mississippi River on the west and the Ohio River on the east. Carbondale is situated in the extreme southern portion of Illinois, ca. 100 miles southeast of St. Louis, Missouri (star on map at right). Southern Illinois University is strategically located in the transition zone between several North American biomes and is thus in an ideal location for the study of many natural communities. The University is at the juncture between two distinct communities found in Illinois: the tallgrass prairies that occur on glaciated terrain (shown in black on the map) and the forests (shown in green) that were not extensively glaciated. The southern quarter of the state that is shaded green includes the Shawnee National Forest (250,000 acres, 101,174 hectares) as well as extensive wetlands. The abundance of State Parks, State Forests, State Recreation Areas, State Conservation Areas, National Natural Landmarks, and National Wildlife Refuges makes Southern Illinois an excellent locale to engage in botanical study as well as recreation. By presenting a brief glimpse of a few selected Natural Areas, it is hoped that you will get a "flavor" of what is like to live and work in this scenic part of the Midwest.
Little Grand Canyon and LaRue Pine Hills National Natural Landmarks
In terms of biological diversity, one of the richest regions in the state of Illinois is located less than one hour's drive from Carbondale. Two adjacent National Natural Landmarks, Little Grand Canyon and LaRue Pine Hills, are found in southwestern Jackson and northwestern Union Counties, respectively. In 1959, Southern Illinois University established a Field Station in Pine Hills, named for the population of Shortleaf Pine (Pinus echinata) that is native to this area. Over 1000 species of vascular plants have been recorded from this Field Station - a high number that can be attributed to the diverse number of habitats found there. To quote from Mohlenbrock and Voigt (1965):
"Swamps, unspoiled mixed deciduous forest, cold water springs of even temperature, clear-running rock-bottomed streams, steep-sided and shaded valleys, dry rocky uplands, acid cherty slopes of varied aspect, grassy openings or hill prairies, and limestone provide a wide habitat range."
What Types of Plants Occur in Southern Illinois?
As mentioned above with regard to the Pine Hills Field Station, over 1000 species of vascular plants occur at this one site. Therefore, when considering the entire southern Illinois region and surrounding states of Missouri, Kentucky, and Indiana, the flora is extremely diverse. In addition to vascular plants, this region also has abundant bryophyte species (mosses, liverworts, and hornworts). Our department is noteworthy in having two emeritus bryologists: Drs. Dale Vitt and Barbara Crandall-Stotler. For more information on bryophytes at SIU, click here.
THIS PAGE provides lists of the commonly seen plants in the various floristic regions of southern Illinois. Each species is listed by region, scientific name, and common name. Photographs of that species can be obtained via the links to PhytoImages.
What's the Climate and Weather Like in Southern Illinois?
Carbondale itself is in climate zone 6 (-10 to 0 degrees F ca. average annual minimum temperature) but less than one hour's drive south one enters climate zone 7 (0 to 10 degrees F ca. average annual minimum temperature). For this reason, the winters in Carbondale are generally mild and plants with a more "southern nature" such as Magnolia grandiflora can be cultivated. Spring often arrives early and our spirits are raised by the abundance of wildflowers. Summers can be hot and humid (90 degrees and 90%!) particularly in the months of July and August. Autumn is generally an excellent time of year for outdoor activity, especially when we are fortunate to have an "Indian Summer" well into October or November.