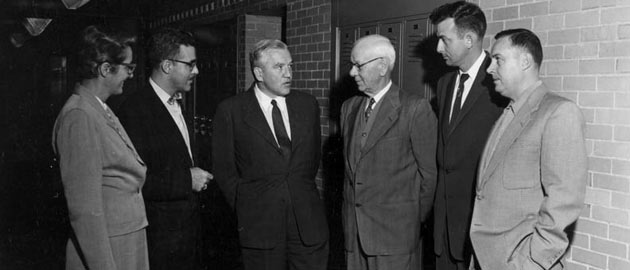 Donald Bissing
At SIUC 1976 to 1990
Ph.D. 1976 Claremont Graduate School
Publications
Bissing, D. R. 1974. Haupt's gelatin adhesive mixed with formalin for affixing paraffin sections to slides. Stain Technology 49:116-117.
Bissing, D. R. 1976. The effect of cultivation on the expression of anatomical features of the wood of selected dicotyledons. Ph. D. dissertation. Claremont Graduate School, Claremont, CA.
Bissing, D. R. 1982a. Evolution of leaf architecture in the chaparral species 

Fremontodendron californicum

 ssp. 

californicum

 (Sterculiaceae). American Journal of Botany 69:957-972.
Bissing, D. R. 1982b. Variation in qualitative anatomical features of the xylem of selected dicotyledonous woods in relation to water availability. Bulletin of the Torrey Botanical Club 109:371-384.
Carlquist, S., and D. R. Bissing. 1976. Leaf anatomy of Hawaiian geraniums in relation to ecology and taxonomy. Biotropica 8:248-259.
Russo, V., B. Russo, and D. Bissing. 1986. The parasitic interface between 

Balanophora indica

 and 

Cynometra ramiflora

. Beiträge zur Biologie der Planzen 61:173-178.
Taft, J. B., and D. R. Bissing. 1988. Developmental anatomy of the horned oak gall induced by 

Callirhytis cornigera

 on 

Quercus

 

palustris

. American Journal of Botany 75:26-36.
Thomson, P. M., and D. R. Bissing. 1979. Classroom Ideas. Wandering jew: focusing-in on a clear view of the cell. Science Teacher 46:33.