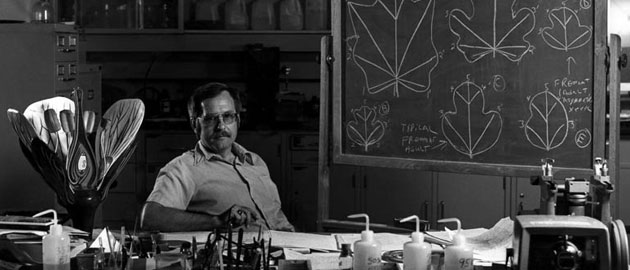 Historical Photos
Click on thumbnails to view a larger image. 
Historical Photos




George Hazen French with a class. Photo taken in late 1800s




Science Club from 1934.
William Bailey, the first chair of Botany, is standing in the second row, second from the right.

Fall 1953.
From left: John Voigt, Robert Mohlenbrock, Roger Bell and James Brooks.

Arbor day (Friday April 27, 1956) tree planting on campus. Botany faculty include William Marberry, Raymond J. Pool, S. Lane Wilson, Margaret Kaeiser, Leo Kaplan, and John Voigt.

Another photo of tree planting in 1956.

Central State foray, 1959.
Front row: Kucera, Voigt, H. Fritts; back row, from left: Downy, Mohlenbrock, Lornmason, Thrit, Aikman.

Taken in 1959.
From left: Margaret Kaeiser, Leo Kaplan, Frits W. Went, Raymond J. Pool, S. Lane Wilson, and John W. Voigt

Botany club, 1959.
From left, front row: (students); back row: Robert Mohlenbrock, Margaret Kaeiser, ?, ?, ?, ?, ?, Walter Welch.

Taken in 1970.
The Botany faculty, staff and some graduate students from ca. 1989. 
From left, back row: John Bozzola, George Davis (grad.), Jeanette Baker (grad.), Raymond Smith (grad.), Robert Mohlenbrock, John Richardson, Philip Robertson, Donald Tindall; middle row: Williams (staff), Betty Graff (staff), Michael Woods (grad.), William Dyer, John Voigt, Walter Sundberg, Benjamin Shepherd, W. Clark Ashby, Walter Schmid, Lawrence Matten; front row: Donald Miller, Donald Ugent, Donald Bissing, Ellen Cypher (grad.), Brian Adams (grad.).