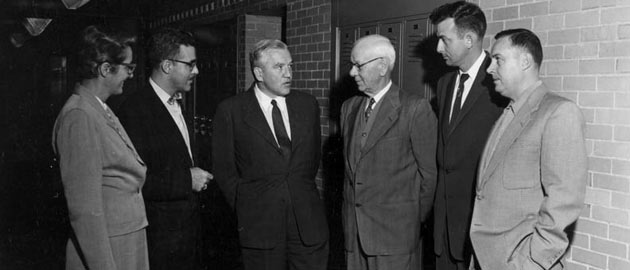 Leo Kaplan
In SIUC Botany from 1950 to 1960
Leo Kaplan was born September 29, 1918 in Springfield Massachusetts.  He obtained his undergraduate degree at the American International College in Springfield MA and went on to receive Masters and Doctoral degrees from Harvard University.  As a specialist in allergies, he taught at Quincy City Hospital School in Quincy MA and at the Massachusetts General Hospital School in Boston.  During World War II (1944-1946) he served as a Navy medical laboratory technician.
1950 proved eventful in both his professional and personal life.  He married the former Miss Dorrie Smith in Westfield MA, received his Ph.D. from Harvard, and also joined the SIU faculty as an Assistant Professor in that same year.  Dr. Kaplan was apparently an effective and well-liked teacher, for he was voted most popular professor at SIU in a student poll conducted by the Daily Egyptian (late 1950s).  He was an enthusiastic supporter of honors programs as evidenced by his participation (in 1960) in a new plan entitled "An Honors Program for Freshman".  He was faculty advisor to the Theta Xi fraternity and was (up to the time of his death in 1960) president of the SIU chapter of Sigma Xi, a national society for professional scientists. He was promoted to Associate professor in 1956 (check date). During the summer of 1960 he headed the National Science Foundation program for high school students and was scheduled to continue this in 1961.
As a mycologist, Dr. Kaplan's research focused upon fungi.  He worked on oak wilt, including using aerial surveillance to track the spread of that disease. Peroniella kaplaniana Mohlenbrock and Dillard (Trans. Amer. Microscopical Soc. 82: 329-335; 1963) was named in honor of Dr. Kaplan who encouraged the two authors to work on this fungal genus.
Images

Photo October 31, 1951

Leo Kaplan (left) and John Voigt (right), Arbor ceremony, SIU campus, 1956

Photo April 1957
On Friday Dec. 2, 1960 Dr. Kaplan introduced Dr. Carl C. Lindegren (SIU geneticist) at a Sigma Xi meeting being held in the Agriculture building on campus.  After completing the introduction, he walked into the hallway beside the auditorium and was found unconscious shortly afterward.  He was rushed by ambulance to Doctors Hospital in Carbondale but was pronounced dead at approximately 8:30 PM, apparently the victim of a heart attack.  His local funeral arrangements were made by Huffman Funeral Home in Carbondale, and funeral services were held at the Ascher Funeral Home in Springfield MA.  He is buried in the Sons of Jacob Cemetery of West Springfield, MA.
Dr. Kaplan's memory is honored by the yearly Leo Kaplan Memorial Lecture that is sponsored by the SIUC chapter of Sigma Xi.  In addition, the College of Agricultural, Life, and Physical Sciences Biological Sciences Program offers the Leo Kaplan Memorial Scholarship.  His wife Dorrie Kaplan continued to reside in Carbondale after his death.  Other relatives that survived him in 1960 included his mother Mrs. Fannie Kaplan of Springfield MA, a brother Hal Kaplan of Kenmore NY, sisters Mrs. Bessie Winer and Mrs. Ida Nadelman, both in Massachusetts.