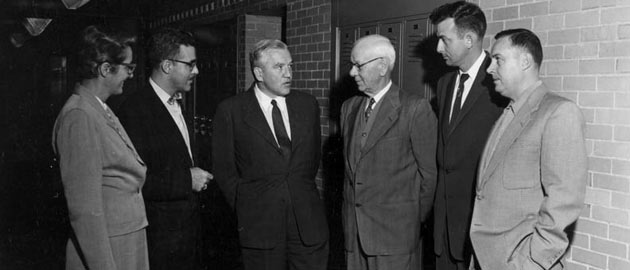 William M. Marberry
In SIUC Botany from 1939 to 1970
William Marberry came with his family to Carbondale in 1914.  He received a Bachelor's of Education degree in 1935 from Southern Illinois University Carbondale in Horticulture & Floriculture. In 1936 he received his M. A. from the University of Illinois. He became an Assistant Professor of Botany at SIU in 1939, which was apparently his terminal rank.  
In 1942, Mr. Marberry joined the Air Force to serve in World War II.  He was stationed in India, China and Burma.  While there, he acquired many plants, some of which he shipped home.  On his return flight home, he carried eighteen coffee cans full of seedlings. Among his collections at that time were several species of particular interest including oriental maples, pines and junipers.  He brought a Dauvrica Juniper from Shanghi, a Golden Bamboo from Handow, and several Oriental Scholar Trees (Sophora japonica) from the Forbidden City's Imperial Gardens in Peiking.
Mr. Marberry will be best remembered for establishing an arboretum that today bears his name. The Marberry Arboretum actually dates back to 1939 when young William Marberry purchased a 25-acre tract about 2 miles south of Carbondale.  The site had been a peach orchard, but low prices, adverse weather and the Great Depression precipitated its failure.  On the south end, cattle had grazed for years leaving the ground rough and eroded. Early the following year, Mr. Marberry planted hundreds of conifer seedlings including Incense Cedars and Ponderosa Pine in dense rows along the west boundary of his property.  He had secured the Ponderosa Pine seedlings earlier when he was a ranger at Yosemite National Park.  At this time, he affectionately referred to this property as "The Farm."
Again in Carbondale, he accepted two part-time jobs at Southern Illinois University.  One was a teaching position in the Botany Department.  The other, a campus-planting job with the Physical Plant.  Many outstanding trees currently on the SIU campus were planted by Mr. Marberry during this time. Mr. Marberry continued working on "The Farm" for he intended to develop it as an arboretum and also to build his home on the site.  He removed the remaining peach trees, constructed the south pond and continued to plant new species.  He collected plants when traveling in Europe and traded with other botanists.  He was able to secure from the Missouri Botanical Garden one of the first specimens of Dawn Redwood available after its discovery in China in 1945.  Many of his plants were very unusual and found nowhere else in Illinois, except perhaps in the Morton Arboretum near Chicago. When a list was compiled in 1969, his Arboretum included about 100 genera, well-over 600 species, and 20,000 plants.  
Besides collecting plants, Mr. Marberry collected local artifacts.  Still prominent at the Arboretum are rocks, many of considerable size, which he collected from locations in Southern Illinois.  He often had college athletes - weight lifters, football players and wrestlers - assist with their transport.  Some were large enough to require trucks and cranes. He salvaged paving stones from the Jonesboro town square when it was being replaced with concrete.  Now in several locations on the site, these stones are known as the Lincoln Stones because they had been in-place and probably would have been walked-on by Abraham Lincoln and Stephen A. Douglas during their debate in Jonesboro. There are undocumented accounts about other artifacts.  First is a collection of 14 stones said to be from a council fire northwest of Murphysboro in the Kinkaid Hills.  One of the stones was so large that it overturned the truck on which it was loaded and was left along the Arboretum's steep drive.  Presumably the others are on the hilltop. (Archaeologists consulted questioned whether fire councils actually existed in the region, but more investigation is needed.) 
Eventually William Marberry decided not to build a home on his Farm Arboretum.  He purchased a house in Carbondale.  Here, he planted many showy species.  He had a sizeable greenhouse attached to the house where he probably propagated many plants for use at the Arboretum and on the SIU campus.     During development of the Arboretum, Mr. Marberry toiled at the site.  Often students or others would visit with him there.  He apparently was happy to have people come to and explore the site.  He was not happy, however, when some vandals cut and removed a prized Nikko Fir from the site.  Mr. Marberry said, "This is the greatest tragedy that happened on the farm." As the Arboretum developed, he provided tours and narrated slide shows about the site.  Some of that narration has been found on cassette tapes.  Students used his site for study, and some of their pressed herbarium specimens from the Arboretum are still available in the SIU Herbarium (Plant Biology Department).
By 1980, Mr. Marberry began searching for a suitable conservator of his Arboretum.  Although he was approached by housing developers, he clearly wanted the property to be preserved as an Arboretum.  Mr. Marberry died in 1984 and in 1987 his two sisters sold the property to the Carbondale Park District.  Park District staff and many local volunteers have been involved in caring for the Arboretum since.  In 2002 the Carbondale Park District decided to have a Master Plan for the Marberry Arboretum prepared. A document was prepared by Massie Massie & Associates, Inc. (Springfield IL) in 2003, but was not immediately approved. In 2003 was the first first annual report from The Friends of Marberry Arboretum, Douglas McEwen as Chairman. The election of a new Park District Board apparently came with new priorities, thus the Arboretum remains undeveloped.  It suffered major losses of trees during the May 8, 2009 Derecho that hit Carbondale and was in fact closed to the public for nearly a year afterwards. 
Images

Photo from 1934 Obelisk

Photo from 1941 Obelisk

Photo 1951

Photo 1957

William Marberry examining
a Citrus plant in the Botany
Greenhouse. From Daily 
Egyptian article, March 20,
1954

Photo from 1969