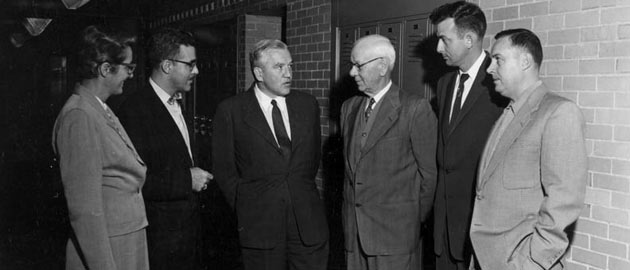 Jacob Verduin
In SIUC Botany from 1964 to 1985
Jacob Verduin was born on November 19, 1913 in Sioux County, IA, on his parents (Peter and Jennie Verduin) farm near Middleburg. He lived on the Sioux Rosebud Indian Reservation in southwestern South Dakota where his grandparents purchased farm land in 1915. After graduation from Northwestern Junior College in 1937, Verduin received his B.S. in 1939 and his M.S. in 1941 at Iowa State College, Ames. After three and a half years in the United States Naval Reserve, he returned to Iowa State College and earned his Ph.D. in 1947, majoring in botany and plant physiology, and minoring in chemistry, physics, and mathematics. Dr. Verduin then became a part-time instructor at Iowa State College (teaching botany from 1941 to 1942 and plant physiology 1945 to 1946).  He then became a faculty member and head of the Botany Department at the University of South Dakota (1946-1948). Following this (1948-1955) he joined as an Associate Professor of hydrobiology at The Ohio State University working out of the Franz Theodore Stone Laboratory, Put-in-Bay, Lake Erie. From here he moved to Bowling Green State University, OH where he became Professor of Biology and Chairman of the Department of Biology from 1955 to 1964.  It was in 1964 that he moved to Carbondale IL accepting a position as Professor of Botany at Southern Illinois University, Carbondale where he remained until 1985.

Dr. Verduin taught general courses in biology, botany, plant physiology, and ecology, as well as special courses on the polluted environment, plant-water relationships, and ecological aspects and energetics of aquatic ecosystems. His major research interests were photosynthesis, respiration, and diffusion studied under natural conditions. Specifically, he researched the aquatic community metabolism in photoplankton of the Great Lakes, Mississippi River, and the Atchafalaya Basin, as well as western mountain and desert lakes of the United States. In later years he became interested in the impact of power plants on the ecosystems of lakes. Dr. Verduin was the recipient of numerous national grants to support his research efforts: National Science Foundation (1957-1960; 1967-1970), the Atomic Energy Commission (1958- 1963; 1959), and the Environmental Protection Agency (1969-1974).  From 1975 to 1977 he had a full-time tour of duty sponsored by the United States Environmental Protection Agency through its Interagency Personnel Exchange Act. During that time he was Adjunct Professor of Biology at the University of Nevada, Las Vegas, and conducted research on Lake Mead, Lake Powell, Flathead Lake, and Lake Tahoe. He was a consultant to the Department of Health, Education and Welfare (1951), the Tennessee Valley Authority (1957), and Commonwealth Edison, Chicago (since 1973).

Dr. Verduin's research career first developed while he was in the employment of Thomas H. Langlois, Director of the Stone Laboratory. Here he began to study the rates of photosynthesis and primary productivity in the phytoplankton, diatom, and filamentous green algae communities in western Lake Erie. After resigning his faculty position at the Laboratory and relocating to nearby Bowling Green State University, Verduin continued his research on plant communities in western Lake Erie. During those years while at the Stone Laboratory (1948-1955), Verduin purchased a considerable amount of land on South Bass Island, which provided him throughout his life a second home, called "Callous Manor," near the Laboratory at Put-in-Bay. During most summers he lived there and continued to use the Stone Laboratory as a base of operation for his physiological and limnological research on Lake Erie. Nearly one half, approximately 30, of his research papers pertain to situations in Lake Erie.

Dr. Verduin was an active attendee and presenter at state and national meetings, and held a membership in the American Association for the Advancement of Science, American Fisheries Society, American Institute of Biological Sciences, American Society of Limnology and Oceanography, Ecological Society of America, International Association of Theoretical and Applied Limnology, Arizona Academy of Science, the Illinois Academy of Science, and the local chapter of the United Nations Association. He was a member of The Ohio Academy of Science, affiliated with the Plant Sciences Section, was elected a Fellow (1950), and served as its vice-president (1958). He served on the editorial boards of the following journals: American Fisheries Society, Ecology, Journal of Great Lakes Research, Limnology and Oceanography, and The Ohio Journal of Science.  Verduin was elected to an honorary life membership in the Biology Honorary Society, Beta Beta Beta (1964), and was named faculty "Man-of-the-Year" at Bowling Green State University, OH (1964), where he was employed from 1955-1964.

At age 83, Jacob Verduin died at his home on Easter Sunday, March 30, 1997. Funeral services were provided  by the Walker Funeral Home and a service of celebration and thanksgiving  was presented at St. Andrews Episcopal Church, Carbondale, where Verduin was a member. Remembrances of Jacob Verduin's life are in his autobiography, The Rosebud I Remember (July 1, 1994, Aegina Press). He was preceded in death by his daughter Charlotte and his wife of 52 years, Bethy Albertha (Anderson) to whom he was married on 3 July 1942. He is survived by children Lans Verduin, Jan Verduin, Lesly Verduin, and Beth (Verduin) Heren. Memorial contributions are to be made to the National Federation of the Blind, Four Rivers Chapter, 722 Robin Street, Greenville, IL 62248.
Images

Photo 1970

Photo from Daily Egyptian
November 10,1965
Publications
Brues, A. M., H. Auerbach, L. D. Marinelli, J. Verduin, and J. G. Kaplan. 1960. Assessment of fallout hazards. Science 131:230-235.
Lyman, J., and J. Verduin. 1961. Changes in pH and total CO2 in natural waters. Limnology and Oceanography 6:80-83.
McMillan, G. L., and J. Verduin. 1953. Photosynthesis of natural communities dominated by Cladophora glomerata and Ulothrix zonata. Ohio J. Sci 53:373-377.
Ragotzkie, R. A., and J. Verduin. 1961. Phytoplankton communities, CO2 and O2 changes. Limnology and Oceanography 6:367-368.
Saur, J. F. T., and J. Verduin. 1965. Notice from the committee on apparatus and supplies. Limnology and Oceanography 10:305-306.
Verduin, J. 1950. Quantum theory and phytoplankton photosynthesis. Science 112:260.
Verduin, J. 1951a. A comparison of phytoplankton data obtained by a mobile sampling method with those obtained from a single station. American Journal of Botany 38:5-11.
Verduin, J. 1951b. Comparison of spring diatom crops of western Lake Erie in 1949 and 1950. Ecology 32:662-668.
Verduin, J. 1952a. The calculus and the inoperable expression. Ecology 33:116.
Verduin, J. 1952b. Limiting Factors. Science 115:23.
Verduin, J. 1952c. Photosynthesis and growth rates of two diatom communities in western Lake Erie. Ecology 33:163-168.
Verduin, J. 1952d. The volume-based photosynthetic rates of aquatic plants. American Journal of Botany 39:157-159.
Verduin, J. 1953a. Baule-Mitscherlich limiting factor equation. Science 117:392.
Verduin, J. 1953b. A table of photosynthetic rates under optimal, near-natural conditions. American Journal of Botany 40:675-679.
Verduin, J. 1953c. The tension concept in aquatic biology. Science 118:254-255.
Verduin, J. 1954a. Carbon dioxide compensation point in photosynthesis. Science 120:75-76.
Verduin, J. 1954b. Estimation of the gaseous CO2 concentration in intercellular spaces during photosynthesis. The Ohio Journal of Science 54:353-359.
Verduin, J. 1954c. Phytoplankton and turbidity in western Lake Erie. Ecology 35:550-561.
Verduin, J. 1955. Diffusion constant and diffusion coefficient. Science 121:215-216.
Verduin, J. 1956a. Energy fixation and utilization by natural communities in western Lake Erie. Ecology 37:40-50.
Verduin, J. 1956b. Primary production in lakes. Limnology and Oceanography 1:85-91.
Verduin, J. 1957. Daytime variations in phytoplankton photosynthesis. Limnology and Oceanography 2:333-336.
Verduin, J. 1959a. Photosynthesis by aquatic communities in northwestern Ohio. Ecology 40:377-383.
Verduin, J. 1959b. Use of an aerated reference sample when measuring dissolved carbon dioxide. Ecology 40:322-323.
Verduin, J. 1960a. An experiment in biology teaching. The Ohio Journal of Science 60:318-320.
Verduin, J. 1960b. Phytoplankton communities of western Lake Erie and the CO2 and O2 changes associated with them. Limnology and Oceanography 5:372-380.
Verduin, J. 1961a. Measurement of Environmental Radioactivity with Basic Counting Equipment. The Ohio Journal of Science 61:1-6.
Verduin, J. 1961b. Separation rate and neighbor diffusivity. Science 134:837-838.
Verduin, J. 1963. Radioactivity of suspensoids in aquatic environments of northwestern Ohio. The Ohio Journal of Science 63:39-43.
Verduin, J. 1964. Principles of primary productivity: photosynthesis under completely natural conditions. Chemical Processes.
Verduin, J. 1966. The exclusive "Graduate" course in advanced-degree programs. Science 152:700.
Verduin, J. 1969a. Critique of research methods involving plastic bags in aquatic environments. Transactions of the American Fisheries Society 98:335-336.
Verduin, J. 1969b. Hard clam pumping rates: energy requirement. Science 166:1309-1310.
Verduin, J. 1969c. Man's influence on Lake Erie. The Ohio Journal Of Science 69:65-69.
Verduin, J. 1971a. Field Guide to Lakes.
Verduin, J. 1971b. Phytoplankton energetics in a sewage-treatment lagoon. Ecology 52:626-631.
Verduin, J. 1972. Caloric content and available energy in plant matter. Ecology 53:982.
Verduin, J. 1973. Review of: Conservation and Productivity of Natural Waters. The Proceedings of a Symposium Organized Jointly by the British Ecological Society and the Zoological Society of London, Held at The Zoological Society of London on 22 and 23 October, 1970. by R. W. Edwards; D. J. Garrod. The Quarterly Review of Biology 48:50.
Verduin, J. 1975. Rate of carbon dioxide transport across air-water boundaries in lakes. Limnology and Oceanography 20:1052-1053.
Verduin, J., R. J. Beyers, and H. T. Odum. 1960. Differential titration with strong acids or bases vs. CO2 water for productivity studies. Limnology and Oceanography 5:228-230.
Verduin, J., and Gutknecht, J. 1962. Zn65 Uptake by 

Ulva lactuca

. Limnology and Oceanography 7:270-271.
Verduin, J., and W. E. Loomis. 1944. Absorption of carbon dioxide by maize. Plant Physiology 19:278-293.
Verduin, J., E. E. Whitwer, and B. C. Cowell. 1959. Maximal photosynthetic rates in nature. Science 130:268-269.