Matt Geisler
Associate Professor. Mathematical Biology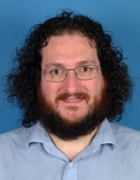 Biology is now an information science, as DNA and protein sequences are digital, and data collected can be manipulated by decryption and database software. I use a novel combination of data mining software and high-throughput whole genome expression analysis to match cis-regulatory elements in DNA to gene expression patterns. Once identified, individual elements are built into regulatory modules and artificial promoters driving reporter genes are constructed and tested in our lab by transforming Arabidopsis plants or cell cultures. So far, I have identified modules in the Arabidopsis genome responding to sucrose, salicylic acid and reactive oxygen species. A second direction, using data generated for humans, yeast and Drosophila, is to predict protein-protein interactions in Arabidopsis by looking at interacting orthologs. This has lead to a predicted interactome for Arabidopsis, which is the first plant to have this valuable resource, and is now available at the BAR and soon at the TAIR public online resource sites.
Education
Ph.D. 1999, Ohio State University
Selected Publications
Schuette S, Piatkowski B, Corley A, Lang D, Geisler M 2015. Predicted protein-protein interactions in the moss Physcomitrella patens: a new bioinformatic resource. BMC Bioinformatics 16: 89.
Molina J, Hazzouri KM, Nickrent D, Geisler M, Meyer RS, Pentony MM, Flowers JM, Pelser P, Barcelona J, Inovejas SJ, Uy I, Yuan W, Wilkins O, Michel CI, LockLear S, Concepcion GP, Purugganan MD 2014 Possible Loss of the Chloroplast Genome in the Parasitic Flowering Plant Rafflesia lagascae (Rafflesiaceae). Molecular Biology and Evolution, 2014. 31(4): p. 793-803.
Joardar A, Jana S, Fitzek E, Gurha P, Majumder M, Chatterjee K, Geisler M, Gupta R 2013. Role of forefinger and thumb loops in production of Ψ54 and Ψ55 in tRNAs by archaeal Pus10. RNA 19(9): 1279-1294.
Yesudas CR, Bashir R, Geisler M, Lightfoot DA 2013. Identification of germplasm with stacked QTL underlying seed traits in an inbred soybean population from cultivars Essex and Forrest. Molecular Breeding 31(3): 693- 703.
Magalhães–Padilha DM, Geisler–Lee J, Wischral A, Gastal MO, Fonseca GR,  Eloy, YR Geisler M, Figueiredo JR, Gastal EL. 2013. Gene expression during early folliculogenesis in goats using microarray analysis. Biology of Reproduction 89 (1) 19 1-12.
Geisler M, Gibson D, Lindsey K, Millar K, Wood A 2012. Upregulation of photosynthesis genes, and downregulation of stress defense genes, is the response of Arabidopsis thaliana to intraspecific competition. Botanical Studies 53 (1): 87-97.
Ho CL, Wu Y, Shen H, Provart NJ, Geisler M. 2012. A predicted protein interactome for rice. Rice 5 (1): 15.
Fitzek E and Geisler M 2011. A predicted interactome for Coffee (Coffea canephora var robusta). Journal of Plant Molecular Biology and Biotechnology 2 (2): 34-46.
Kleczkowski L, Geisler M, Wilczynska M, Fitzek E 2011. Structural determinants of UDP-sugar producing pyrophosphorylases. Biochemical Journal 439 (3): 375-379. 
Lichtenberg J., Yilmaz, A., Welch J., Kurz, K., Liang X., Drews F., Ecker K,. Lee S., Geisler M., Grotewold E., Welch L. 2009. The word landscape of the non-coding segments of the Arabidopsis thaliana genome. BMC Genomics, 10:463.
Lee D.K., Geisler M., Springer P.S. 2009. LATERAL ORGAN FUSION1 and LATERAL ORGAN FUSION2 function in lateral organ separation and axillary meristem formation in Arabidopsis. Development 136: 2423-2432. 
Meng M., Geisler M., Johansson H., Harholt J., Scheller H., Mellerowicz E.J., Kleczkowski L.A. 2009. UDP-Glucose Pyrophosphorylase is not Rate Limiting, but is essential in Arabidopsis. Plant Cell Physiology 50(5): 998–1011. 
Afzal A. , Natarajan A., Saini N. , Iqbal M.J., Geisler M., El Shemy H.A., Mungur R., Willmitzer L., Lightfoot D.A. 2009. The nematode resistance allele at the rhg1 locus alters the proteome and primary metabolism of soybean roots. Plant Physiology Vol. 151, pp. 1264–1280. 
Schuette S., Wood A.J., Geisler M., Geisler-Lee J., Ligrone R., Renzaglia K.S. 2009. Novel localization of callose in the spores of Physcomitrella patens and phylogenomics of the callose synthase gene family. Annals of Botany 103: 749-756. 
Geisler, M. 2009 Chapter 3: Transcription and signaling factors in the drought stress response regulatory network. In: Genes for Plant Abiotic Stress by Jenks and Wood. Wiley-Blackwell Press.
Lichtenberg J., Alam M., Bitterman T., Drews F., Ecker K., Elnitski L., Evans S., Geisler M., Grotewold E., Gu D., Jacox E., Kurz K., Lee S.S., Liang X., Majmudar P.M., Morris P., Nelson C., Stockinger E., Welch J.D., Wyatt S., Yilmaz A., Welch L.R. 2009 Construction of genomic regulatory encyclopedias: strategies and case studies. Ohio Collaborative Conference on Bioinformatics.