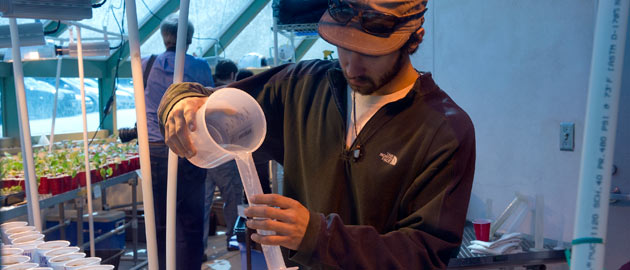 Research
Undergraduate Research in Plant Biology
One important aspect of the Plant Biology program at SIU is the emphasis on undergraduate research.  While undergraduates at other colleges and universities spend nearly all their undergraduate program in lecture halls and teaching laboratories, many of our students have the opportunity to work side by side with the faculty in our department, participating in the professor's research. The research interests of Plant Biology faculty can be reached through the web pages for each member of the department. Quite often though, students are given the chance to pursue their own original experiments. Undergraduate researchers in the Plant Biology program present their work at the annual meeting of the Illinois State Academy of Science, a gathering attended by faculty and students from across the state, and at other professional venues.  Plant Biology students have in the past earned prizes and research grants for their projects.  Undergraduates from our program have frequently received the highest honors from the Botanical Society of America, one of the leading professional societies for scientists in plant biology.  This practical scientific experience and recognition is one of the most attractive aspects of the Plant Biology program.
Until recently, undergraduate research has been an informal part of the learning experience at SIU.  With the success of our undergraduate researchers and the active participation of new faculty in the Plant Biology program, undergraduate research is being formally integrated into the curricular structure, at least for the specialization options.  A minimum number of research hour credits will be required, with students mentored by one or more faculty in the corresponding node.  All phases of scientific research will be emphasized, from the initial design of the experiment to the analysis, preparation, and presentation of the data.  While this requirement will present a challenge to undergraduates in Plant Biology, this experience will make them more competitive in today's job market.
Below, please explore opportunities offered through the University to gain valuable research experience as an undergraduate.
Each year at SIU, 20 undergraduates are selected to receive up to $1,500 in grants to support an original creative or scholarly project done in partnership with a faculty mentor.  The application deadline is usually at the end of January, and the one-year grants begin in July.  Students present results at the Undergraduate Research Forum, held in April.  This is a competitive program, so visit the REACH webpage now to find out more information and learn how to apply.
The Undergraduate Assistantship (UGA) program awards approximately 300 students each year, offering on-campus research for SIU undergraduate students. Selected students are able to work directly with a faculty member on a project that culminates in a poster or oral presentation at the Annual Research and Creative Activity Forum on campus in April.  Students are paid $10/hour and work 10-20 hours per week on their projects. Visit the UGA webpage for more information on this opportunity and to view available assistantship positions!
The McNair Scholars program aims to provide research opportunities for low-income, first-generation college students and members of underserved groups in higher education. This program promotes academic excellence that leads to success in graduate school and the achievement of a PhD. Please visit the McNair Scholars webpage for more information.
Aimed at providing invaluable research opportunities to freshman and sophomore students, this program strives to increase retention of promising first year students at SIU. This program is hands-on and faculty-mentored, hoping to ease the transition between high school and college, and is particularly geared toward first-generation, low-income and underrepresented minority students. Please visit their website for more information or to apply.