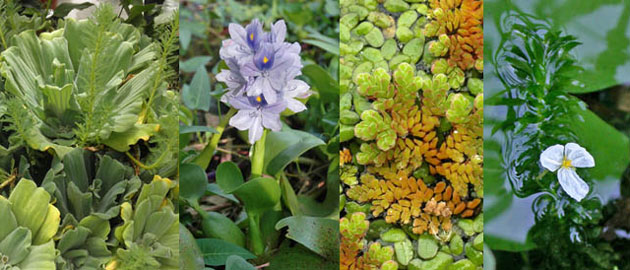 Aquatic Plants
Although all plants require some water to live, some can tolerate or even require liquid water throughout their lifetime.  Very few embryophytes (land plants) can tolerate saltwater, an exception being the seagrasses (Zostera).  Most aquatics occur in freshwater environments.  These plants can be placed into three general categories based on their overall habit:
Emergents.  Plants with some portions partially submerged in water, the other parts growing in the air above the water.
Submergents. Plants with all parts totally submerged. 
Floating.  Plants floating on the surface of the water, not rooted.
There are many native and non-native aquatic plants that could be listed here, but we will consider only the ones that are commonly seen in cultivation and ones that we actually have in the SIU Greenhouse.
Emergents
Submergents
Ceratopteris thalictroides.  The Water Sprite is another aquatic fern. This species is a valuable  model research organism because it can be easily grown.
Elodea.  This popular aquarium plant (also called Anacharis, Egeria, Brazilian Waterweed) has its stems and leaves totally submerged, but the flowering stalk stretches to  the water surface where the flower occurs.
Isoetes.  The Quilworts are classified as lycophytes, an early branching clade often allied with the ferns.  Many species are emergents in nature but strangely don't object to being grown as submergents.  
Floating
Aquarium Plants
A number of different plants are sold commercially for use in aquaria. Some of these are true aquatics and others are simply plants that can be grown as aquatics, even if they are not usually seen this way in nature. 
Aponogeton madagascariensis.  Aponogetonaceae. Madagascar Lace Plant
Anubias barteri.  Araceae. Anubius.
Anubias congensis (= A. afzelii). Anubius.
Anubias hastaefolia.   Anubius, Hastate Leaf.
Anubias nana. Anubius, Dwarf.
Bacopa monnieri.  Plantaginaceae. Moneywort.
Cabomba caroliniana. Cabombaceae. Cabomba.
Ceratophyllum demersum. Ceratophyllaceae. Hornwort.
Cryptocoryne crispatula. Araceae. Balansae Plant.
Cryptocoryne spiralis. Spiralis.
Cryptocoryne wendtii. Cryptocoryne.
Echinodorus amazonicus. Alismataceae. Amazon Sword Plant.
Echinodorus cordifolius  Radican Sword, Marble Queen.
Echinodorus martii. Ruffle Plant.
Echinodorus osiris.  Melon Sword.
Echinodorus tenellus. Chainsword Narrow Leaf.
Eleocharis acicularis.  Cyperaceae. Dwarf Hairgrass.
Hygrophila angustifolia. Acanthaceae. Temple, Narrow Leaf.
Hygrophila corymbosa. Temple, Corymbose.
Hygrophila difformis. Wisteria.
Lilaeopsis novae-zelandiae.  Apiaceae. Micro Sword.
Ludwigia glandulosa.  Onagraceae. Ludwigia Peruenis.
Ludwigia inclinata.  Ludwigia Inclinata.
Ludwigia repens. Ludwigia, Broad.
Microsorum pteropus.  Polypodiaceae. Java Fern.
Myriophyllum heterophyllum. Haloragaceae. Myrio-Red.
Myriophyllum pinnatum.  Myrio-Green
Nymphoides aquatica. Menyanthaceae. Banana Plant.
Rotala indica. Lythraceae. Rotala Indica.
Rotala macranda. Rotala Magenta.
Sagittaria platyphylla. Alismataceae. Arrowhead, Flatleaf.
Sagittaria subulata.  Dwarf Sagittaria.
Spathiphyllum tasson. Araceae. Brazilian Sword.
Vallisneria americana. Hydrocharitaceae. Corkscrew Vallisneria.