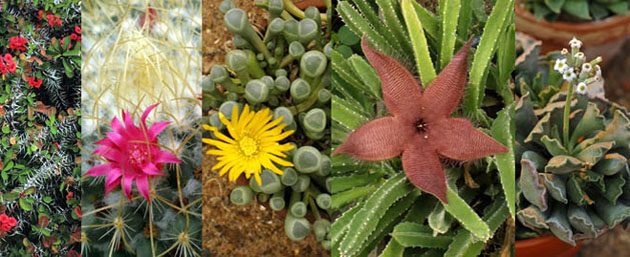 Cacti and Succulents
Cacti (members of the family Cactaceae) and succulents (members of many different families) all have one thing in common: they have modified morphology adapted to conserving water.  Because of these adaptations to dry (xeric) environments, they do not need as much care and attention as other house plants.  On top of that, they have incredibly curious or grotesque shapes and sometimes contrastingly beautiful flowers.  All of these features make them attractive to the collector or enthusiast.  And enthusiasts there are!  These plants are the source for a huge horticultural industry, not only for indoor houseplant use but also for outside landscaping in xeric environments.  There are numerous websites that supply these plants (see Web Pages below) and they are praised and promoted by The Cactus and Succulent Society of America.
The Plant Biology Greenhouse has numerous species of cacti and succulents, as well as some caudiciforms, i.e. plants with swollen, water-storing stems (but not necessarily succulent leaves).  The cactus family is large, with an estimated 118 genera and 1200 species.  Generic boundaries are sometimes not well defined, plus lots of morphological convergence makes identification difficult if the plant is only in vegetative condition (not flowering).  
The list below is arranged taxonomically with links to the genera represented in our collection.
Monocots
Agavaceae
Asphodelaceae
Dicots
Aizoaceae
Apocynaceae
Asteraceae
Cactaceae
Crassulaceae
Didiereaceae
Euphorbiaceae
Vitaceae
Web Pages