William Clark Ashby
In SIU Plant Biology from 1960 to 1992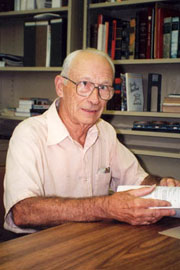 William Clark Ashby was born on July 6, 1922 in Duluth Minnesota. He is an authority on tree growth, biomass production, effects of acid rain, and especially reclamation and revitalization of disturbed lands (Saluki Science, Spring 1992). His research focused mostly upon reclamation of strip mined sites in Illinois and Indiana. Even after retiring, Dr. Ashby has worked with groups planting over 100,000 trees in strip mined landscapes near Harrisburg, DeSoto and Pinckneyville. Aside from research interests, he remains active in the First Presbyterian Church of Carbondale, is a member of a local sailing association, and enjoys traveling within and outside the U.S.
EDUCATION
A.A. degree in Pre-government, George Washington University in Washington D.C., 1942
B.S. in Botany, University of Chicago, 1947
Ph.D. in Botany, University of Chicago, 1950
PROFESSIONAL EXPERIENCE
Plant Physiologist with the USDA Forest Service, California Forest and Range Experimental Station, 1953.
Research Fellow with the California Institute of Technology.
Fulbright Research ScholarSydney University, Australia, 1954-1955
Assistant Professor at the University of Chicago, 1955 -1960
Instructor at the Chicago Teacher's College, 1955 -1960.
Associate Professor, Botany Department, SIUC, 1960.
Professor, Botany Department, SIUC, 1969.
Resident Research Associate, Argonne National Laboratories, 1966, 1970-71.
SIUC College of Science Outstanding Researcher Award, 1991.
Retired from SIUC August 31, 1992.
Biology Instructor, SIU-Niigata in Nakajo, 1992, 1994.
Ashby Photos

Photo 1960

Photo 1965

Photo 1968

Photo 1990