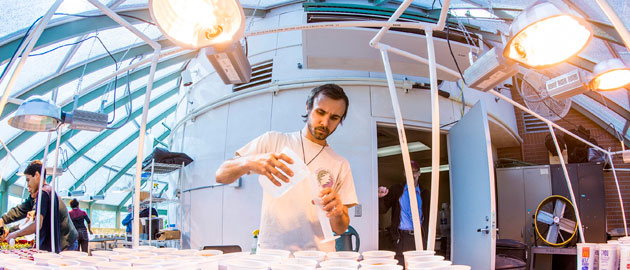 How to Apply
DEADLINES FOR FALL ENTRY
FELLOWSHIP CONSIDERATION: To be considered for a Fellowship from the Graduate School, applicants must be nominated by a faculty member in the program and complete a Fellowship application (https://gradschool.siu.edu/cost-aid/fellowships). Fellowship applications are due to the department on January 5. 
TEACHING ASSISTANTSHIP CONSIDERATION: The application deadline to be considered for a teaching assistantship from the department is February 1.
APPLICATION INSTRUCTIONS:
Go to SIU Graduate School, read through all instructions and requirements before applying
Click Apply Now

Fill out your application and submit

At the bottom of the page, select "Part Two to Department Supplemental Application"

Select "Plant Biology" from the menu on the left

You will be asked about a potential major advisor to direct your graduate education. 
To help you decide, here's the list of Plant Biology faculty and their research interests.  Contact a faculty member to determine if they will be taking on new students.

Transcripts. Note that Official Transcripts are required for all applications.
For GRE and TOEFL, please use 1726 as the institution code for SIU, and code 0205 for the Plant Biology department code, which is listed under "Botany".
Please send your official transcripts to the following address:
Director of Graduate StudiesPlant Biology Program
1125 Lincoln DriveSouthern Illinois UniversityCarbondale, IL 62901-6509, USA