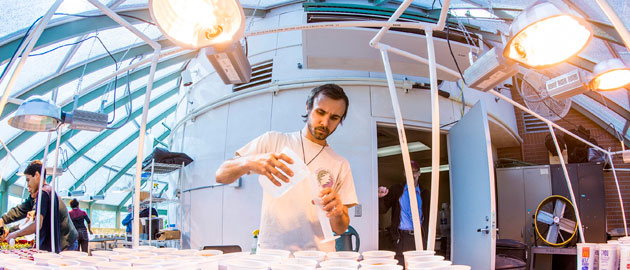 Doctoral Degree Program
Admission
Applicants to the Doctoral Degree Program must have a plant sciences related Master's degree (or equivalent). Exceptions to this rule include the Accelerated Entry option described below. Criteria for admission include GPA, GRE scores, letters of recommendation, transcripts and availability of faculty, space and facilities. To be admitted into the program, a GPA of 3.25 and at least one PLB faculty member willing to serve as Major Advisor are required. Coadvisors may be included if the student wishes to work in the Forestry or Plant, Soil and General Agriculture departments. Students desiring financial assistance should note that the deadline for fellowship and assistantship applications is posted on the graduate school website.
Course Requirements
Course work for the degree shall consist of a minimum of 20 semester hours at the 400 and 500 levels in the Plant Biology program or related disciplines but excludes seminar, readings, research, dissertation, and research tool requirements. The student may select a minor area of specialization once the major area has been declared. A course proposal including core courses must be approved by the student's Advisory Committee and the respective departmental chair and be submitted to the Director of Graduate Studies within the first semester. Changes made after the first semester of the student's program must be approved by the majority of the graduate student's Advisory Committee.
Core Courses
Students will enroll in the Plant Biology departmental seminar and a seminar in a related discipline each year. Students must enroll in the Introduction to Research seminar (PLB 590) during the first Fall Semester that they are in the program. Students also will take either prior to or during their program, courses in all of the following four categories:
general plant biology
systematics
physiology
ecology
Courses in plant anatomy and genetics are strongly recommended for students pursuing careers in teaching and/or research.
Research Tools
Students shall demonstrate knowledge in two research tools approved by his/her Advisory Committee. One of the research tools must be a foreign language or statistics. A tool is defined as training in laboratory (or field) methods, instrumentation, technology, and communication skills including languages that are integral to the pursuance of research. Specific tool requirements will be determined by the student's Advisory Committee. Courses used to satisfy tools requirements shall not be applied toward the total number of hours required for the degree.
The foreign language requirement can be met by earning a grade of B or better in an appropriate 400 level course (Latin, French, German, Spanish or Russian). The requirement can also be met by passing an Educational Testing Service (ETS) examination in French, German, Spanish or Russian. The ETS passing level for French and German is 465 and for Russian and Spanish it is 440. If the student holds a degree from an institution in which the official language is not English but one of the above four languages, the language requirement may be waived.
Statistics requirements will be satisfied by earning a B or better in at least one graduate level statistics course. Recommended courses include Biostatistics (PLB 557) and Advanced Biostatistics (PLB 558) as well as others deemed acceptable by the student's Advisory Committee. Tool requirements other than language or statistics may be completed by earning a B or better in courses selected from current lists approved by the Plant Biology faculty.